Choose
Rogers Lawn Service
Are you in need of Lawn Care in Florence SC? If so, you have come to the right place.  Rogers Lawn Service is a locally owned and operated lawn care service catering to the needs of residential properties and commercial businesses.  We provide reliable, professional, and courteous lawn service to our clients, homeowners or business owners, and their lawn care needs in Florence, South Carolina.  We also serve homeowners and business owners in the Darlington, SC, area but we are mostly limited to the pee dee area. Our business offers services, including lawn mowing and lawn maintenance, shrub pruning and shrub trimming, straw and mulch installations, and others.  We aim to make you one of our customers if given the opportunity.  
Lawn Care Services we offer
Lawn Mowing includes trimming, edging of driveways, sidewalks, etc., and blowing of debris and basic cleanup.
Pruning and Trimming of shrubs and bushes.
Mulching and strawing of beds.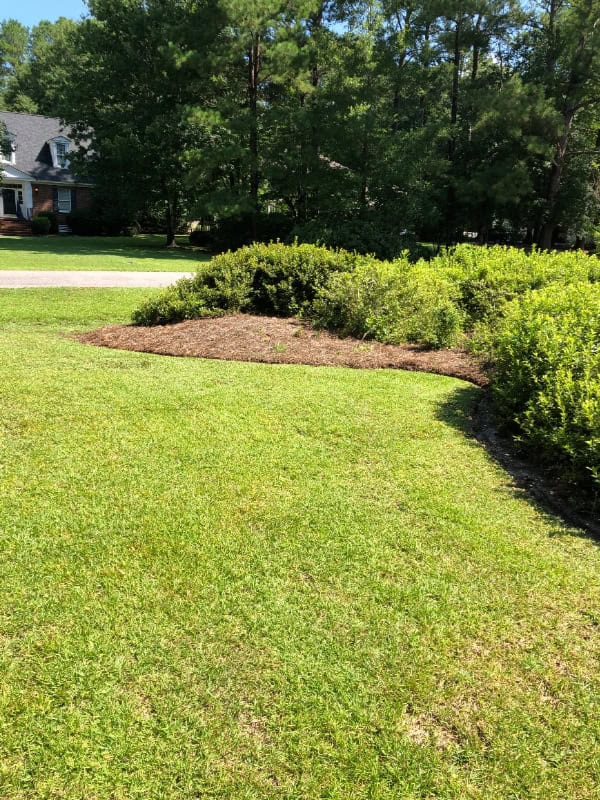 Re-edging of beds that have filled in over time sometimes needs to be redefined.  Edging and trenching give a yard or property a little extra class look that sets a yard apart from one that does not have it.
How we price our Properties
When we estimate the cost of a property, we build our estimates based on the size of the yard or business property.  There is a minimum charge when we start our quote, but all are based on the property area to make the price fair and consistent.  Sometimes, if we feel that we need to charge a little extra, it will be because of obstacles in the yard that would cause the service to be more difficult.      
Is your lawn service reliable? Are they on time?
When we acquire a new customer and add them to our schedule, we will maintain the property on an agreed-upon day of the week unless the weather interferes over which we have no control.  Otherwise, we will be at our customer's property to maintain it on the agreed-upon day. We will notify the customer if we cannot be at the customer's property for some reason other than the weather.  It is important to us to give your property service at the proper time.  A healthy yard needs cutting every two weeks at the very minimum.    
Is your lawn care low-quality?
The quality of our work is one of the most critical things to us. We completely understand that low-quality work ends up with no customers as it should.  Generally, a few yards in just about every community are a prime example of a poorly kept property.  That is why we take great pride in our work and aim to earn your business through our performance.  We are in the lawn care business to make our client's properties look as best and as healthy as possible.  Our policy is to guarantee our customers will receive only our best efforts as we service your property.  We do a complete job so that you are delighted with our work.  At Rogers Lawn Service, there are no cutting corners.
Is your lawn service committed to the care of your property, or are they just interested in doing business with you?
At Rogers Lawn Service, we are committed to our customers and their desires for their properties.  We are committed to listening to your feedback and will not leave the job until we are satisfied that what we have done are the results you, the client wants.  At Rogers Lawn Service, we feel our prices are competitive for our services.  We take pride in our work and believe it is an excellent cost-to-value for residential and commercial customers.
Our Guarantee:  if our work is unsatisfactory or we miss something, we will come to your property and fix it free of charge within twenty-four hours.  We stand behind our work and desire to do the best job possible for you on your property and keep it in top shape. 
Click the links below to view our work
Click the links below to view grasses grown in South Carolina
Thank you for considering our company for your lawn care needs in Florence SC.  We look forward to serving you and maintaining your property.